What to do in case of an accident with dangerous goods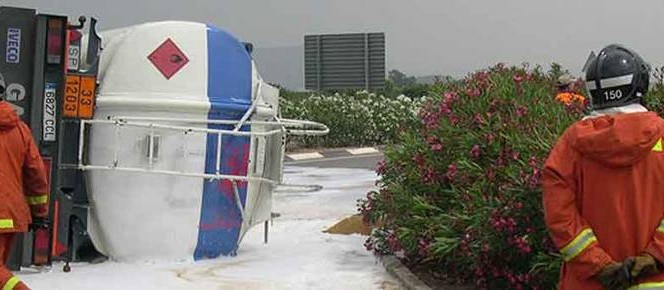 20 of August of 2015
In all traffic accidents are some protocols, but in cases of transport of dangerous goods procedure should be known and applied strictly due to the potential danger to the integrity and health of people and damage to the environment. We hope that you have never remember how to act in case of an accident with dangerous goods, but you know, better safe than sorry. Let therefore, to give you some advice.
Call 112. Before attempting to inspect the condition of the goods or vehicle must as soon as possible to notify emergency services.
Knowing the goods transported. It is critical that the carrier knows what type of material being conveyed to know how to act in case of accident. We found nine types: explosives, gases, oxidizing, toxic, flammable liquids, flammable solids, corrosive, radioactive and others. Each type is marked with the corresponding label, and number panel. In this sense, it is likely that if the emergency services contact us we ask that signaling.
Away from the scene. If there is risk of explosion or leak it is best to move away from the damaged vehicle. We should not try to stop the leak and pick up what we lost on the road.
To identify which type of dangerous goods bearing the vehicle, it takes an orange panel with numbers, usually in the front and rear. The numbers at the top for the hazard identification number, that is, they indicate the type of goods mentioned in item 2 (explosive gas, radioactive, etc.). It usually takes 2 to 3 digits and sometimes the letter X, which means that the material is water reactive dangerously.
1 Explosive substances and articles
2- Gases
3- Flammable liquids
4- Flammable solids
5- oxidizing substances
6- toxic or infectious substances
7- Radioactivity
8- corrosive substances
9. Miscellaneous dangerous substances
Furthermore, the number of the bottom, 4 figures points out the identification number of the subject. It can be given the fact that orange panel is empty, which means that inside there are different substances with different risks and are packaged separately and each carries its label.
In this case this vehicle carries (2) a gas, (6) and toxic (8) corrosive.
Happy travels and be careful on the road.
Communication Transambiental